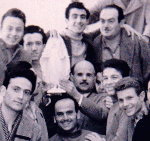 The "Ceramiche Solimene Arte e Tradizione Vietrese" Firm srl was founded by four brothers whose greatest willingness was to go on with a century-old family tradition.
Our history has its beginning with great-grandfather Vincenzo (1876-1958), known as "cupaiuolo" because of his great ability to mould at the potter's wheel really quickly. The master-potter Raffaele Apicella, known as Filuccio, remembers him like that: " …I remember a man with a large moustache and authoritarian face and tone… he was so fast at the potter's wheel that his three assistants found it difficult to follow him. He never stopped… at the end of the day he looked like a clay statue".
His son, Francesco (1912-1979) known as Ciccio, followed in his footsteps. Unlike his father, grandfather Ciccio had an artistic sense so striking that he was considered the forerunner of the futurist art. He started working with his father since he was very young and then devoted all his life to the turning.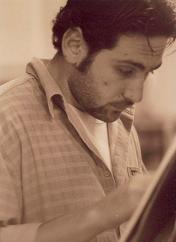 My father always tells me that my grandfather was a man of few words who liked neither to attract attention nor to talk about himself. My father remembers an event with great pleasure which can make you understand how much the turning was important for my grandfather. One day he went at his in-laws house after a working-day with a potter's wheel and there he kept on shaping and moulding all night long.
He refined his art in Florence where Max Malamerson wanted him to work at the "Cantagalli" ceramics firm. His work was a continuous evolution. His outstanding creative changeability brought him to realize shapes and colours which belong not only to the history of the ceramics of Vietri but also to the history of art.
His great art revealed itself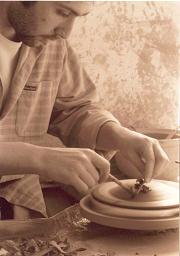 also through his ability of creating shapes with marvellous glassy reflections. Owing to his glaze technique, he was conferred the name of "dull and transparent Mediterranean blue potter". Unfortunately his passion caused him a serious illness. Nevertheless my father remembers he worked trembling at the potter's wheel moulding with such a great precision that everyone was astonished. Unfortunately someone took advantage of his efforts and sacrifices, besmirching his work as well. However his memory still lives! My father has kept on working in a big ceramics firm for many years and we grandchildren have founded a small firm with great passion in memory of grandfather Ciccio.
We intend to propose a revised "classic art of Vietri" and a new line born from the experience of two young artists who worked in the artistic ceramics trade since they were children. Our path intends to explore the wonderful world of ceramics in order to realise articles representing histories and experiences of life.
Through our work, we would like to pass on the purchaser a piece of our history plunging him in the ancient tradition of the artistic ceramics of Vietri. At last our customer will become "entangled" in the clay and the colours, taking part of our history.